Update #1: Here's a statement from Universal Orlando about changing to date-based ticket prices:
"We've launched date-based pricing to give our guests more flexibility when planning a visit to Universal Orlando Resort, allowing them to select the best time to visit that suits their needs. And as always, we continue to offer value-driven options throughout the year to help guests save and get the most out of their visit to our destination."
Update: Here's what the new pricing for a 2 day, park-to-park ticket looks like: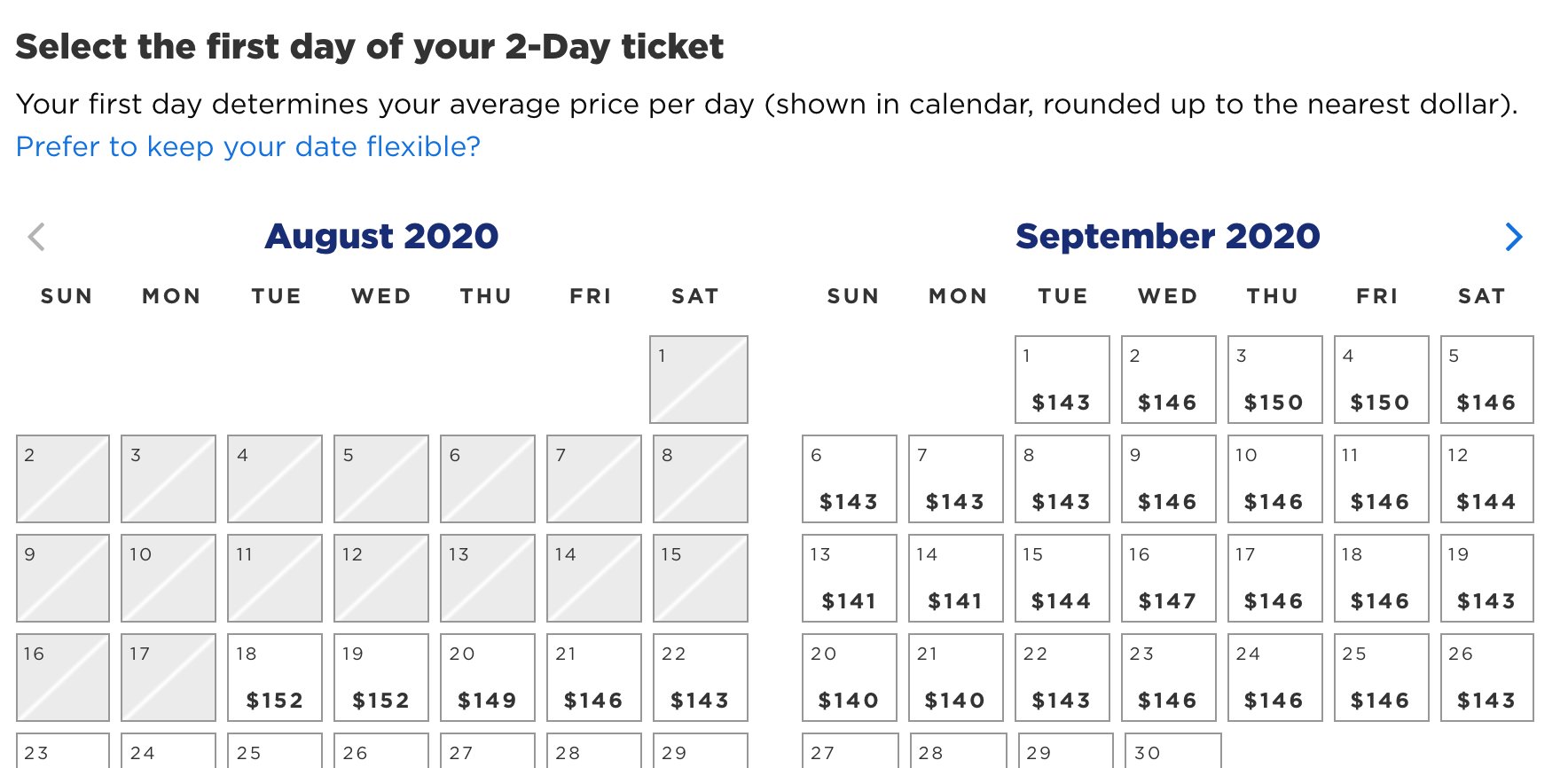 Original Article: Universal Orlando Resort have today moved to a date-based ticketing system, offering wide-ranging prices for guests planning their next trip.
Guests will find ticket prices based on specific dates chosen at the time of purchase for their tickets. For instance, a ticket at a busy time of the year will be more expensive than the same ticket during a less popular time. Every ticket purchase will require guests to choose dates on a calendar, and the total price will be based on the date of their first visit to Universal Orlando.
Guests will have the chance to alter their dates after purchase through the "Guest Self Service" feature in the Universal Orlando mobile app, and can exchange for dates that are at an equal or lower price without being charged an extra amount. For a date change that involves a higher ticket price, guests will have to pay the difference prior to visiting the parks. Otherwise, the tickets are non-refundable.
Most of the tickets available for Universal Orlando (including Florida resident tickets) will use this new pricing, though some promotional offers and tickets may not. As of right now, current promotional tickets will not be date-based. All tickets purchased before today will be still be valid as well.
For guests who can't "pin down" a specific visit date but still want to purchase a ticket, flex ticket options will be available. These are valid for one year after they are printed or electronically generated.
Guests who purchase date-based tickets will receive priority entrance to Universal Orlando's theme parks but admission can't be guaranteed to any guests, should parks hit capacity. In case you're unaware, Walt Disney World made this same change to their ticket pricing model back in 2018, and it would appear Universal have followed suit.
Pricing examples are not available; however, we will update this article once they are announced.